Dr Stephanie van Dijck
Orthopaedic Surgeon
Contact
Phone: +64 9 522 0106
Fax: +64 9 522 0107
stephanie@eastwoodortho.co.nz
EDI: eastwood (attention Stephanie)
Dr Stephanie van Dijck is a New Zealand trained Orthopaedic Surgeon who graduated from Auckland Medical School.
She is experienced in Paediatric and Adolescent Orthopaedics with a focus on lower limb, especially hip, foot and ankle, and deformity. She is happy to review all general Orthopaedic conditions in adults and children.
In brief:
POSNA-APPOS Travelling Fellow 2020
President's Prize for top trainee, New Zealand Orthopaedic training scheme
Fellowship in Paediatric Orthopaedics at the prestigious Toronto Hospital for Sick Children
Fellowship in Paediatric Orthopaedics at Yorkhill Children's Hospital, Glasgow
Commenced full time consultancy at Starship Children's Hospital, Auckland, 2015
Supervisor for Auckland Orthopaedic trainees
Vocational training committee member – Research interests include Hip, and Foot and Ankle conditions
Strong interest and involvement in education.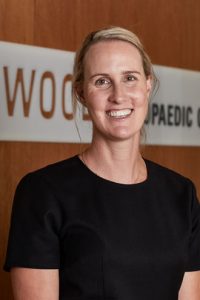 Qualifications
BHB, MBChb, FRACS (Ortho)
Sub-specialties
Paediatric and Adolescent Orthopaedics, General Orthopaedics
Full NZ Registration Date
Post-fellowship Training
Clinical fellowship in Paediatric Orthopaedics, Hospital for Sick Children, Toronto, Canada
Clinical Fellowship in Paediatric Orthopaedics, Yorkhill Children's Hospital, Glasgow, Scotland
Hospitals
Starship Children's Hospital
Mercy Ascot
Southern Cross Hospitals