Matthew Debenham
Orthopaedic Surgeon
Contact
Phone: +64 9 520 4487
matthew@eastwoodorthopaedics.co.nz
EDI: eastwood
Matt joined Eastwood Orthopaedic Clinic in 2016. He sub-specialises in lower limb disorders treating conditions of the hip, knee, foot and ankle.
After completing Orthopaedic training in New Zealand Matt undertook further subspecialty training in NZ, Australia and the United Kingdom. He also spent time visiting surgeons in North America and Europe to gain more knowledge and experience.
He can perform traditional open surgery, arthroscopy and newer percutaneous surgical techniques where appropriate. He does joint replacements at the hip, knee and ankle.
Private surgery is performed at Auckland Surgical Centre and Ascot Hospital.
He also consults at the Unisports Clinic and is a Consultant Orthopaedic Surgeon with Counties Manuaku District Health Board. There he is involved in acute and elective surgery as well as the training of future doctors and surgeons.
Current research interests include patient reported outcome measures. These are one of the ways to more objectively quantify a patient's difficulties and follow their progress over time and with treatment. He also maintains an interest in contemporary joint replacement implants, their designs and failure mechanisms.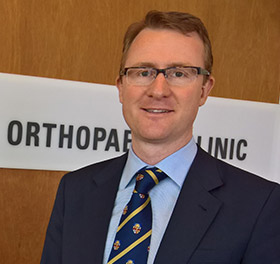 Qualifications
FRACS (Orth) 2009
MB ChB 1999 Otago
BMedSc 1997 Otago
Sub-specialties
Ankle Surgery
Foot Surgery
Hip surgery
Knee Surgery
Open, arthroscopic & percutaneous surgery
Full NZ Registration Date
Post-fellowship Training
Joint replacement, Dunedin & Middlemore Hospitals, 2010
Sports surgery & Joint replacement, Sportsmed South Australia, 2011
Foot & Ankle, Brisbane Foot & Ankle Centre, 2011-2012
Paediatric Orthopaedics, 'Yorkhill', The Royal Hospital for Sick Children Glasgow 2014-2015
Hospitals
Auckland Surgical Centre
Ascot Hospital
Middlemore & Kidz First Children's Hospital
Manukau Surgical Centre